The dark mode was secretly released in the Android version of Google Chrome as part of the latest app updates. Finally, we can look at all of our phones a little more comfortably, especially at night, without having to activate night read modes or other settings… and I think this is also useful for the life of the battery.
Enabling Chrome's dark mode on Android, however, requires additional steps to be expected as the functionality is still undergoing technical testing and has not yet been completed. Therefore, there will be some mistakes for the time being. However, we are pleased that the functionality is finally available. Read how to activate it.
How to successfully activate dark mode on Chrome for Android
To see the dark mode option in Chrome settings, you must be running version 74 or later of the Chrome Android app. You can check your app version and download the latest update from the Google Play Store. After the correct update, do the following:
Type chrome: // flags in Chrome'S URL bar. This will take you to the Chrome flag settings, which we need to adjust to show the dark mode option in the Chrome settings.
On the branding page, tap the search bar and look for the "dark mode of the Android Chrome user interface" that will take you straight to the appropriate branding settings.
Tap the flags drop-down list, change the "Default" setting to "On" and restart Chrome.
When the app reopens, tap the dot menu button and go to Settings> Dark Mode. Select the slider, and Chrome will switch a new dark theme automatically. If you can't find the dark mode settings after enabling Command Prompt, restart the application (some updates may appear as an option).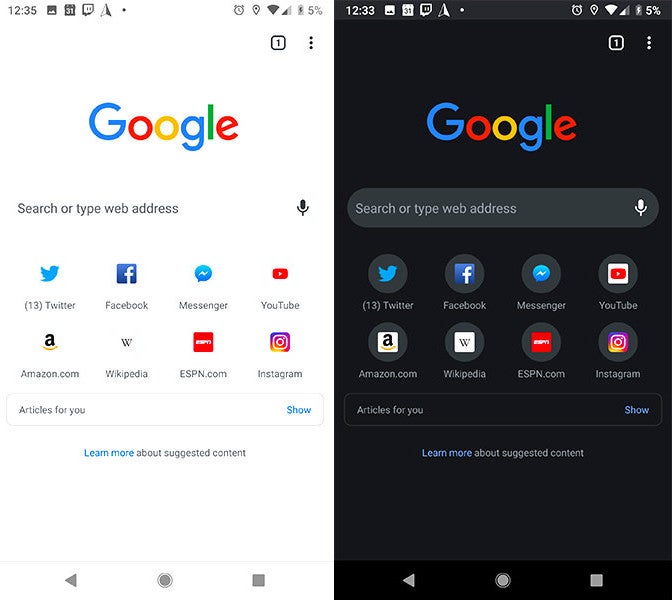 You also don't have to tinker with the Chrome flags to see the functionality when the final version of Chrome's dark mode is available for Android. At the moment, however, this is the only way to activate the dark mode.
The dark mode is technically still an unfinished function, so not all pages show the dark theme. We notice that the search results are always displayed with a white background. Likewise, some text or page elements can be displayed incorrectly when dark mode is activated. These minor bugs will likely be fixed in the final release, but you can always turn off dark mode on the Settings tab if that's too annoying.
How to successfully activate dark mode in Google Chrome on Windows 10
Google Chrome 74 offers a dark mode integrated into Windows. Instead of having its own dark mode, Chrome simply follows the general application mode of Windows 10. This is how it usually works, but there is also a way to force it on.
How to enable Chrome dark mode
You can easily turn on Google Chrome's built-in dark mode by going to Settings> Personalization> Colors under Select Standard Application Mode and choosing Dark. Windows 10 gets darker, and Chrome, along with other apps, follows this general configuration.
On a Mac, you can turn on MacOS Dark mode to do the same.
At the moment, this only works for some people. As of the release of Chrome 74 on April 23, 2019, Google is testing this functionality with "a small number of Chrome M74 users" and "will be more widely available in the near future, according to a Chrome community administrator. To activate it now, you can start Chrome with the –force-dark-mode option.
Update: Google says it should work for everyone. However, you can still force dark mode if you prefer Windows in light mode and Chrome in dark mode.
How to force dark mode
Chrome App has an inherent option that turns on dark mode forcibly. It works immediately, even if the normal system-wide dark mode option doesn't work. Chrome will also go into the dark mode, even if Windows 10's default app mode is set to "light".
To enable this option, find the shortcut that you normally use to start Chrome. For example, it could be on your taskbar or on your desktop. We'll use the shortcut on the taskbar.
Right-click the shortcut and choose Properties. To get a shortcut to the Chrome taskbar, right-click the icon in the taskbar, right-click "Google Chrome" and select "Properties".
Add a space at the end of the target area followed by –force-dark-mode.
Click "OK" to save your changes.
Select the OK option and launch Chrome using the shortcut. If you've already opened Chrome, you'll need to close Chrome before restarting it. To do this, click Menu> Exit. Wait a moment for Chrome to close completely and start Chrome with the shortcut you changed.
You will see the new subject of dark mode, which unfortunately looks very similar to incognito mode.
How to activate the title bar colorful in Chrome (or not)
If you don't want the Chrome title bar to be colored, or if you want it to be colored, go to Settings> Personalization> Color Surface and activate (Title Bars and Window Frames) under (Show Color d 'Accenting surfaces as follows)
When enabled, the Chrome title bar uses the accent color you set here in the Colors panel.
How to activate the dark mode with a theme
If you don't want to mess around with it or use an older version of Windows like Windows 7, you can still install a dark mode theme for Chrome. Google is now offering an official collection of themes for Chrome. Just go to the Chrome Web Store and install the Just Black chrome theme.
It's darker than the dark mode design built into Chrome. If you're looking for a darker browser, you may even prefer it. The Chrome Web Store has other themes that you can also install.